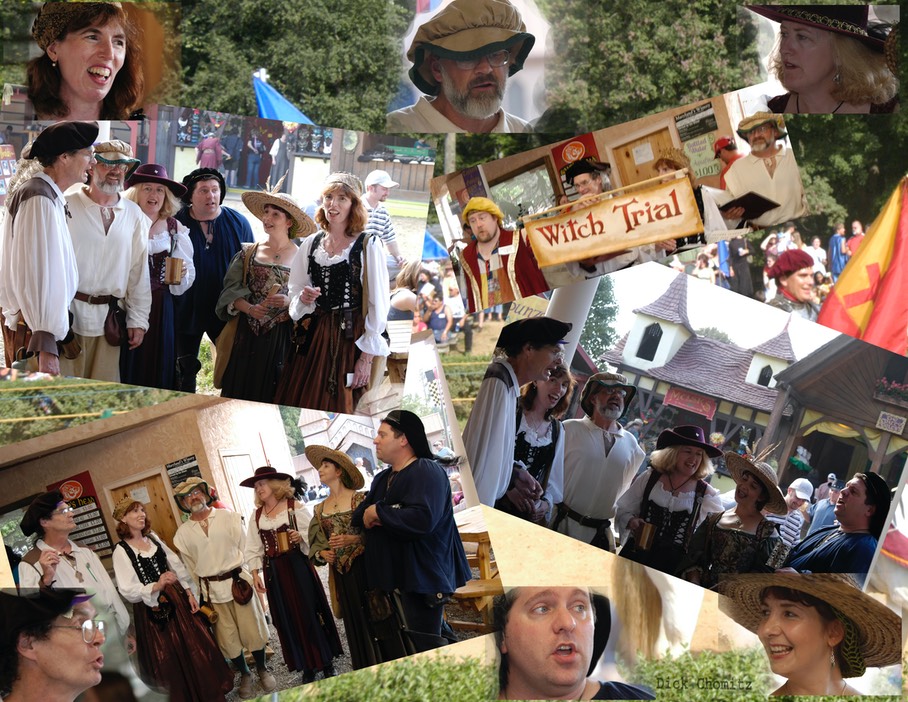 Larksong, a band of seven singers specializing in a cappella (unaccompanied) music, was created after a 1994 holiday party. Three University of Maryland, Baltimore, professors began discussing music over the beer cooler and discovered that -- although no one had imbibed enough to break into song on that occasion -- all had sung under other circumstances. They discovered a common interest in a cappella music and decided to create a lunch-time practice group. Rehearsals began in the lab of one of the members and other music lovers joined the little group. They first performed around the campus as the UMAB Singers and Virginia Renaissance Faire as the Rogues and Wenches in 1996 then at the Maryland Renaissance Festival. Soon after that, they adopted the more appropriate and descriptive name - Larksong. After 18 years with six members, Larksong added a seventh, bringing new talent and sound to the group, along with some more flexibility for scheduling.
Larksong a cappella vocalists have developed a warm blend and ever-growing repertoire in the years they've sung together. The Baltimore-based group has performed at the Maryland Renaissance Festival, Chesapeake Shakespeare Company, Baltimore Artscape, National Theatre, Folger Theatre, Virginia Renaissance Faire, National Aquarium in Baltimore, First Night Annapolis, Maryland State House, Dobbin House in Gettysburg, and other local venues. Larksong's debut CD, Renaissance Reflections, was released in September 1997, and the autumn of 1998 heralded the release of a Christmas CD, Softly the Stars are Shining. In 2000, we released In Good Company which features Renaissance era repertoire as sung at the Maryland Renaissance Festival. The next album (2004), Yuletide Gifts, features more classic and favorite holiday melodies. Our newest cd (2011), All We Who Music Love, features more  Renaissance favorites. Larksong's repertoire continually expands selections as the members bring favorites from the members' broad musical experiences and the rich diversity of music available for a cappella singers from the medieval era to today.
Larksong performs madrigals of the 15-16th Centuries and music from other periods for special occasions, holidays and other major events.