You can order on Amazon (digital and physical copies), Apple Music, and other sites!
Larksong's albums are now available on Amazon and Apple Music, among other services. On Amazon and other services, search for Larksong and the album title. The album links below take you to Amazon. The albums are also available on iTunes.
You can also order directly from us. See instructions below.
These Larksong albums are available: 
(Click on the covers to see more information.)
Renaissance Music

"All We Who Music Love"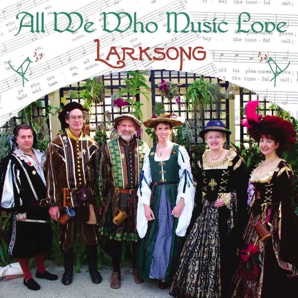 "In Good Company"


Larksong's holiday albums:
"Softly the Stars are Shining"

PayPal Instructions:
Please use the drop-down menu below to select the titles that you would like to order. 
You do not need a PayPal account to make payments.
If you have a code, please enter it in the text field below, exactly as provided, then click on "Check it."
The "Add to Cart"  button will open a new page with PayPal. Please come back to this page to add more cds.
Shipping costs will be added during PayPal check out.
Phone and Email Instructions:
You may send your order request to larkmail@larksongsings.com or you may call 410-496-4264, (Maryland, USA).
You may also pay using PayPal using the larkmail address. 
If you place your order by email, we will send a confirmation email with payment information. 

If you leave a voice message, please leave a contact number or email so that we can contact you to confirm your order and payment information. Please specify your shipping address and requested CD titles in your request.

We will accept personal checks, money orders, cashier's checks or payment service through PayPal. We can't accept credit card payments directly but you can pay securely with credit cards using PayPal even without a PayPal account.

We appreciate your interest in our group and hope to hear from you soon.
For more information about our music or performances, send email to larkmail@larksongsings.com.